I've had a hard time recently coming up with reasons why I consider myself frugal, especially after our recent
spending spree
. But I can assure you my heart is frugal - in fact I'm cheap. And I do have an example - and a frugal deal I found to share with you - if you happen to find yourself in need of ...

I'm not sure if I mentioned yet that we will be receiving a new sibling group soon. These two kiddos (a 3 yo boy and a 18 mo girl) are coming from another foster home vs. emergency placement like we have normally had, so we will setup a time to meet the caseworker and have them brought to our home rather than having only a few hours notice. This is nice planning - but there's really not much planning you can do when you don't know how big the kiddos are, what they are bringing with them (and not), what they like/dislike, and where they are developmentally.
One thing we do know is that we needed another bed for the boys' room. Our bed situation in our home now consists of :
Drop side crib - Logan's from when he was a baby - not recalled but needs to be replaced in June

Convertible crib - could be a toddler bed or twin size - Sophia is currently using as a crib

Daybed - Logan has used since he moved from his crib - J built a rail for it so it functions like a toddler bed

Futon/Queen size bed - we use as a guest bed

4 queen size air mattresses (can't be used for foster kiddos)

2 playpens (which can be used for foster kiddos, with certain guidelines, but we would only use for quick situations)

Infant bassinett
So we have plenty of room and a couple options for the 18 month old but unless we wanted to use our guest bed for the 3 year old (which we will need for guests in 2 weeks) or make him use the princess toddler bed we needed a new bed, preferably a bunk bed so it could fit happily in Logan's room.
We went shopping Saturday to see what we could find. Most furniture stores didn't have anything for kids and the one that did was way out of our comfort price range. I mean, we could have paid cash for what we needed and the furniture was cool, but I just couldn't spend that kind of money.
Here's what we really liked: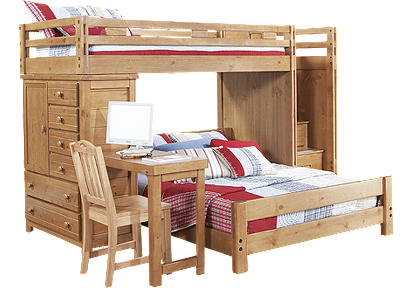 See the steps on the side - they are drawers. Too cool. But this one ranged from $600 - $1400 depending on which format and options you wanted (chest/no chest, twin/full on bottom, desk/no desk, etc.) Even the $600 price tag sent my cheap-o-meter far off the scale.
So we debated on the way home if we should stop at
garden ridge
. It kind of seemed like they might have something but we were tired of trying places and had somewhere to go. But we were having a fun family day so thought if nothing else we'd like to go walk around. Thankfully, we found success!
The bunkbed in the first picture above is what we found for $200! That is MUCH more in my price range. My husband has this grand idea to turn it into a super-hero city scape bed. Not sure how he's going to do it but he's been planning this for a while so I'm sure he'll figure it out.
Now to find a chest of drawers that has more than the 3 that is in the room already. Community garage sale is in 3 weeks...let's see if I can make this work until then...
Did I mention the bed smells of cedar? Yum.